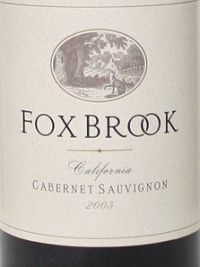 Tasting Note: Medium dark red; aromas of ripe cassis, black cherry and plum, with a hint of leather; dry, full bodied, with ripe black cherry, blueberry, chocolate and toasty oak flavors; long finish.
Serving Suggestion: Filet mignon, marinated flank steak, roast lamb or pepper steak.
Depending on the food that you drink it with this wine was pleasantly tannic and lightly acidic (served with meal consisted of beef stew with couscous) or moderately acidic with light tannins (with commercially barbecued chicken thighs) or moderately acidic with pleasant tannins (served with pairing involved pot roast, cooked with potatoes, carrots, and onions). It was mouth filling with just a touch of oak. This Cabernet Sauvignon was moderately long but not very subtle.
Final verdict. I'd buy this wine again, especially if offered at bargain basement prices.
by Levi Reiss
Price: from $5.59
Buy this wine from Snooth web site!
More wines from Fox Brook Winery